Plastic Injection Moulding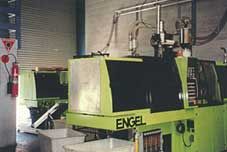 Plasmasters (Brisbane) - the expertise and commitment to provide you with quality plastic injection moulded parts. Engineering grade materials to tight tolerances our specialty.
Plastic injection moulding
is used to make large volumes of parts. In its simplest terms you need a die (a metal mould) capable of moulding under pressure, plastic granules and a moulding machine. The die is put into the machine; hard
plastic granules
are fed into the molding machine and melted then squirted into the die under pressure. The part is then cooled and ejected from the die, either manually or automatically. You then have your component. This complete cycle is called a shot. A shot can contain 1 part or many parts. The quantity of parts is determined by the configuration within the die. There are numerous videos on the internet that show how plastic injection moulding works, enter 'plastic injection moulding videos' as your search criteria.